European Gospel Radio (EGR)
NEXUS-IBA is a strictly non-profit international organisation, mostly staffed by volunteers and professionals in the field of broadcasting and media in general, based in Milan, Italy. Since 1988 several Christian broadcasters from around the world have placed their trust in us to provide a radio link between their radio programs and the European listeners. We take this trust seriously and want not only to place the best possible transmission facilities at your disposal, but also to give you the benefit of our experience and knowledge of the Shortwave broadcast medium and International audience, which goes back more than a quarter of a century.
European Gospel Radio (EGR) is our Christian outreach to the World
All Christian programs aired via IRRS-Shortwave goes under the European Gospel Radio station ID and are assigned prime time, granting slots on a priority basis.  In this way, we hope to fulfil our pledge to help any evangelical and missionary organisation in every way possible to make your mission a success. We offer the following information and advice in this spirit. It goes without saying that we stand ready to answer any specific or additional questions you may have.
Have a Christian talk show or Gospel program?
Join the growing number of Faith and Christian radio & TV stations and Christian program producers that chose European Gospel Radio to re-broadcast their program to a much broader audience than your local market at home, i.e. to the whole of Europe, Africa, Asia and Pacific.
A not for profit service dedicated to religious program producers over IRRS-Shortwave
Smaller programmers will appreciate the value for money of the NEXUS-IBA system made possible by its non-profit basis. Larger program institutions should be aware that, even if they operate their facilities on Shortwave, NEXUS-IBA reaches a very loyal and high-quality fragment of the Shortwave market that may not make a habit of listening to other stations. Our listeners have repeatedly expressed appreciation for the unique variety and quality of NEXUS-IBA programs, reflecting the wide range of NEXUS-IBA members. Perhaps you have program material that is not suited to your regular operations, or for which no time is available on your regular outlets. The chances are that this material will find a grateful audience via NEXUS-IBA. Furthermore, NEXUS-IBA has no political or religious affiliation. It has a very liberal editorial policy and does not edit or censor material unless in crass violation of official legal guidelines. With NEXUS-IBA you get your message on-the-air the way you want it heard. You are not at the mercy of a production middleman. You may contact us for rate information and airtime availability for your target area. To help you better, please let us know: language and frequency of your program (how many times per week or day), program length, intended target area. We have a wide range of transmitting powers and antennas from 50 kW to 300 kW (300 hundred thousand Watts) to efficiently cover any country in the world.
What is the value of Shortwave?
Shortwave radio remains one of the key electronic media for reaching the maximum number of potential listeners, especially in areas where there is no other form of mass communication, such as the Internet or local radio and TV. Such places still exist in Africa, the Middle East, Asia, the Pacific, and specific remote regions in the Americas.  This is proved by the fact that some worlds the biggest international broadcast organisations continue their activities on Shortwave, and invest heavily in studio and transmission facilities. In recent history, the Gulf and the Iraq War, or the situation in South Sudan and North Korea, demonstrated once again and most impressively how vital a telecommunications tool shortwave is in reaching a vast audience using inexpensive, but highly powerful modern receivers that can be put in a suitcase or pocket. Shortwave is everywhere.  It is the world's most mobile medium. Ironically, it was the propaganda machine of Nazi Germany that recognised the power of Shortwave and perfected its use in the Second World War. Today, Shortwave is also one of the greatest weapons in the fight for morality.
How do I qualify to air on European Gospel Radio / IRRS-Shortwave?
Any Christian (religious) program producer or organisation qualifies to air via European Gospel Radio/IRRS-Shortwave. All of our media services operate on a strictly non-denominational, non-discriminatory basis. Our charter and mission say:
Pluralism of information is to be assured, with particular attention paid to minorities; above all ethnic, cultural, political, and religious minorities, without regard to race, sex, language, or political or religious beliefs, and in full accordance with the Human Rights guaranteed by the Constitution of the Republic of Italy and by International Law
As a non-profit, broadcaster-supported organisation, all of our costs are supported by members' contributions and grants. We require that each member bears the cost of the use of any NEXUS-IBA's broadcasting facility, according to the time and transmitter powers required. The non-profit NEXUS-IBA system has cut overhead to the bone, but not at the cost of quality service! The small, dedicated NEXUS-IBA staff is for the most part volunteer. This fact, along with computerisation coupled with state-of-the-art transmission equipment ensure NEXUS-IBA members reliable, top quality coverage  AT COST.
What do I get?
We currently offer slots of airtime on daily prime time on Saturday and Sunday and during prime time in the evening on weekends. For at least 30 minutes per week, we schedule additional broadcasts beamed to any part of the world, with transmitter powers of 100, 150 or 300 kW (kilo-Watt). Our directional antennas can transmit your program to any region of the world. All of our programs originate from or NOC (Network Operating Centre) located in Milan, Italy  – a state-of-the-art facility connected by high-speed optical telecommunication and Internet connections to any part of the world. All of our members' programs are digitally processed and can be delivered to us using MP3 files via the Internet, or in some cases live via satellite or the Internet. In most cases, we can save you any satellite feeding and mailing costs by linking directly to our studio via the Internet, at no extra cost. What you pay in the end is only the broadcast time pro-rated according to the power used, and program length, so to cover our operating expenses. Each organisation or individual program producer may reserve up to any amount of airtime per day or week. Airtime is shared among several NEXUS-IBA members and requires booking. Availability is subject to a first come, first-served basis.
Airtime on European Gospel Radio includes:
Broadcast time over IRRS-Shortwave to Europe, Africa, Asia&Pacific or the Americas or any other specific country or location as required;
Free promos aired at random times during our broadcasts (you will have to provide us with prerecorded promos. Promos can be up to 29 seconds in length, in English, French, Spanish, German, Italian or Russian);
Free simulcast on IRN (Internet Radio NEXUS) lives 24/7 audio streaming service. You may integrate one of our players on your website or link to a player on our website to let your listeners hear your program with their computer, mobile phone or tablet;
Free, unlimited, random repeats of your English program on All Gospel Radio, our live 24/7 Christian stream. You may also link our stream or player onto your website (this free service is only available for Christian programs in English)
Additionally, as a NEXUS-IBA member you will receive free professional consulting on how to make the best use of Shortwave and internet, so no previous experience is necessary.
Exclusive discounts for bulk airtime on 100, 150 and 300 kW Shortwave for more than one hour per week.
Special rates and services for hosting your Web pages and other audio and video streaming services
Free use of a convenient (easy to spell) mailbox or email forwarding with an address that can be easily  understood over-the-air  (i.e., my_radio_mission (at) nexus.org)
A Toll-Free or local US phone number or a phone number in most countries in the world that can be used to deliver program information, streaming audio or be diverted to your phone number (nominal costs apply).
Free or repeat broadcasts on AM / Medium Waves are available as promos from time to time, for every paid slot on Shortwave.
When you join NEXUS-IBA as a member, we offer you TOTAL COUNSELING. We want to help you make your broadcasting mission a success. Whatever your programming, NEXUS-IBA will help you reach the right audience at the right time. If desired, this free counselling includes editorial as well as technical assistance, custom tailored to your individual needs.
How much does it cost?
To air, via European Gospel Radio a nominal fee is charged for every broadcast hour, depending on power used. NEXUS-IBA will not charge you directly for airtime, but all billing is done by our preferred commercial partner, and our consulting services are free of charge.
How should I send any program material?
We recommend that you encode any audio files in MP3, and upload them to one of our servers. We will set up an account, and you will be provided with a dedicated account and instructions to upload your ready-to-air program material in the MP3 format. This will be the fastest, cheapest and more efficient way to send us any program to air.
Can I use other media to record my audio programs?
We also accept feeds via satellite, phone or other media, for live or delay broadcasts. Additional costs may apply if the process cannot be reasonably automated without human intervention.
What is the target area?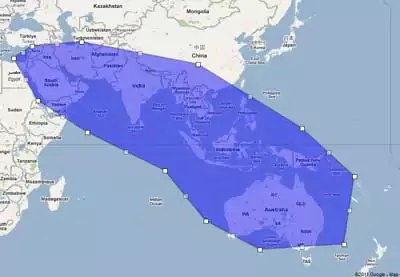 Depending on propagation conditions at the time of broadcasts, fringe reception may also be possible outside of the primary target area. For example, broadcasts to our primary beam Europe and North Africa at 150-300 kW of transmitter power, may also be heard in the near Middle East (i.e. Israel, Syria, Palestine, Lebanon, Turkey) and, occasionally, are also reported in Asia, Australia and North America. Higher power broadcasts at 150 and 300 kW will better reach areas outside of the primary target.  If you are interested in other regions than Europe & North Africa, please contact us for additional options and rates, specifying your preferred target area. In most cases, we may custom plan a broadcast to any region of the world and present you with a proposal in just a few days.
 How does shortwave work?
Standard AM and FM stations lose their power as their signals dissipate along the ground over long distances. In Shortwave, the opposite is true. The Earth is encased in an invisible covering of gases called the Ionosphere. This acts as a mirror, reflecting shortwave signals back to Earth, thus making it possible to cover vast distances with a single transmitter. This is why shortwave is so efficient and cost-effective. In the case of IRRS-Shortwave, this means you can cover any target in Europe or beyond for the same or less money than it would cost to reach just one local market at home.
Shortwave: The Audience
Shortwave is a lot like advertising: everybody agrees that it works, but it is difficult to quantify. The world's biggest broadcasting organisations are deeply involved in audience research costing huge sums of money. Although relating primarily to political and social factors, there are findings of a general nature that are of interest to our broadcasters. Among the most important things: The potential shortwave audience in Europe alone is estimated to be at least 50 million. Most listeners fall into two groups:
middle-aged between 35 and 50; and
the young – teenagers and people in their 20s.
Most shortwave listeners are males, but the female listenership is growing.
Do you remember the pictures that went around the world during the Gulf War, showing people glued to their Shortwave radios to get the latest news from the outside world? During that crisis, sales of Shortwave receivers skyrocketed leaving dealers with empty shelves. Shortwave once again demonstrated its importance and effectiveness. For all the talk of satellite radio and TV, Shortwave radio remains the most cost-effective electronic mass medium that can span enormous distances instantly and penetrate into every home in Europe, Africa, the Middle East, Asia and the Pacific. Also, Shortwave radio is portable and is a companion wherever one goes. It is indeed the world's most mobile electronic mass medium. Modern Shortwave receivers are ultra-compact, inexpensive, and very easy to use.
I have a radio program available. What should I do to start airing it as soon as possible?
To start airing via NEXUS-IBA and IRRS-Shortwave, please follow the following steps:
Send information on your organisation, its aims and your program by e-mail to members@nexus.org and request a membership application form. Also, send sample audio programs or pointers if they are available online.
Send your signed membership application to NEXUS-IBA by email or fax. Do NOT send any money at this stage. NEXUS-IBA's executive committee meets regularly, and examines membership applications and information received for compliance with our charter, and will reply promptly. Please Include a written request for the desired number of hours on our station. In most cases, we will get back to you within 24 hrs with a proposal, including coverage maps and a detailed quotation.
When your application is approved, you are invoiced for membership fees until December of the current year. Additional charges for airtime apply. For administrative reasons, as of 2017, airtime costs will be billed by our sponsoring organisation Milano Ventures Ltd, Dublin, Ireland. The quickest turn-around time for the whole procedure is 24 hours between receipt of all fees and broadcast of the first program.