Donate now!
Donate to support our nonprofit mission in International Broadcasting
Radio Evangelism: How To Reach Millions With Your Christian Ministry
We strongly believe that International and Christian broadcasting should not be a money-making opportunity but rather an exciting missionary challenge to spread the Gospel to the poorest and most unreachable corners of the World.
We are broadcasting from Europe to the World! We operate streaming radio and powerful AM (Medium Wave) & Shortwave transmitters for several Christian organizations.
Sharing Jesus through radio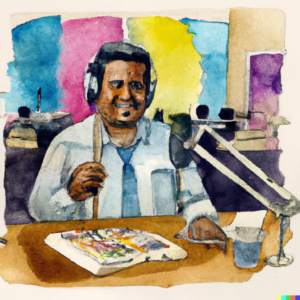 ​No matter where in the World you want to reach or how soon you need your message to go out, International Radio can help. It's a powerful evangelizing tool, especially when you can't send missionaries to remote, dangerous, or war-torn areas.
There are many countries where Christianity is illegal, Christians are persecuted, or it is dangerous for Christians to live. These include communist China, North Korea, Somalia, Lybia, Yemen, Eritrea, Nigeria, Pakistan, Iran, Afghanistan, Nepal, India, Kashmir, Bhutan, Laos, Burma, Saudi Arabia, Maldives, Turkmenistan, Kazakhstan, Uzbekistan, Kyrgyzstan and most Muslim countries in Africa, Asia and the Middle East. We often reach countries at war, like Ukraine and Russia and troubled regions in Asia, East and Central Africa.
Our 150 and 300-kW radio transmitters offer the best coverage for the Middle East, Europe and Africa at a cost-effective price. 300 kW Shortwave provides almost worldwide coverage with just one broadcast. We can extend our European range to countries like India, China, the Americas and the Pacific by using highly directional antennas and high-power modern digital transmitters.
What can European Gospel Radio do for your mission?
European Gospel Radio (EGR) is an international public service promoted by NEXUS-International Broadcasting Association, a non-denominational, strictly non-profit and mostly volunteer organization that has operated since 1979 from Milan, Italy.
Our mission is to help you teach the Gospel of Jesus Christ to the World on Shortwave, AM (Medium Wave) radio, satellite and Internet streaming.
Access to EGR is open to all with a Christian message to broadcast to the World, regardless of denomination or Church affiliation. We are a not-for-profit organization whose mission is to help any organization spread the Gospel of Jesus Christ. We do this by providing an international broadcasting platform for people to share their faith through world radio or streaming live.
If you have a Christian message that you would like to share with the World, we would love to help you.
Teaching God's Word & Worship around the World on Christian Radio
We assist Christian preachers, Pastors, Churches, radio stations, podcasters and individual program producers globally in airing their programs on Shortwave, AM, and Medium Wave radio and stream them all over the World.
Christian Radio WorldWide: Are you ready?
If you need help evaluating your international broadcasting options, you can schedule a 15 min FREE consultation with a NEXUS-IBA or EGR specialist.
We would be happy to call you back at a convenient time and answer any questions you have about broadcasting your Christian message worldwide.
Ask us how to Bring the Gospel to Every Nation Through Radio
We are based in Europe, so if you are in a different time zone, don't hesitate to contact us by email or through our contact us form, and we can arrange a time to speak with you by phone or email is convenient for you.
We are available to answer any specific or additional questions you may have. If you produce or broadcast religious programs and are looking for Internet, Shortwave or International AM/Medium Wave radio coverage or satellite TV in Europe and the USA, please don't hesitate to contact us.
We would be happy to answer any questions you may have, specific or otherwise. Don't hesitate to contact us if you create or air religious programs and require Internet, Shortwave, or International AM/Medium Wave radio coverage or satellite TV in Europe, Asia or Africa.
A WorldWide Christian Broadcasting Network: Tap into a large, International Christian Radio audience
As the Internet and media continue to fragment, traditional ways of broadcasting your message on local FM or AM radio are becoming increasingly ineffective.
However, many areas are still not covered by the Internet, local FM or AM radio and TV. This is especially true in the less developed regions of Africa, Asia/Pacific and Europe.
World Radio station airtime: Want your own Christian radio station?
European Gospel Radio (EGR) is a premier Christian station and Christian Broadcasting Network, reaching millions of people in Europe and worldwide. EGR offers Christian broadcasters, particularly independent Christian radio producers, Pastors, Preachers, and Churches from around the World, a more effective way of communicating with new, existing, and additional listeners worldwide.
EGR offers Christian Radio Airtime combining several different media outlets with one package, including Free Streaming on the Internet for every program aired on our International (Shortwave) broadcasting service. This enables any Christian radio producer to reach also a faithful audience at home (via Internet streaming) in Europe, Africa, Asia/Pacific or any specific target around the World.
A World Radio network for your Christian radio programs
We operate highly directive antennas and high-power, modern transmitters up to 300,000 Watts, beaming several millions of Watts in Effective Radiated Power (ERP) into any desired target, reaching cost-effectively any continent or any specific country or region in the World.
EGR can and will help you deliver your Christian message via its Christian broadcasting network to millions of listeners in poor and underdeveloped areas around the World.
Shortwave and AM/Medium Wave Radio airtime is available now on EGR
By only using local media to preach the Gospel and airing your sermon on a local FM, AM or TV channel, you are missing out on millions of listeners worldwide and a faithful audience abroad that you can evangelize outside the coverage of your local station.
Whether you wish to reach Asia, Africa or Europe, or outreach in times of war and conflicts, or broadcast to Islamic or dangerous countries where you can't send missionaries, we can offer a broadcast package to reach all nations worldwide.
NEXUS-International Broadcasting Association operates European Gospel Radio from Milan, Italy and Dublin, Ireland. EGR has a truly non-profit and missionary spirit to help you evangelize any corner of the World.
Want your own radio station?
Contact us today if you wish to learn more and join us, as all Christian broadcasters who trust us and have used our media daily since 1979.
This is an invitation for indeed missionary organizations, not in search of financial rewards from their US audiences.
If you want to share your Christian message of Salvation with others, consider joining European Gospel Radio today. This is a great way to reach out to people all over the World and let them know about your faith.
Do you love God or money?
We believe that becoming wealthy should not be a priority for Preachers and Pastors. We would like Churches, Pastors and Radio Ministries that have a missionary focus on joining our Christian network, as we feel they will have the most positive influence on our worldwide audience.
If you want to raise funds primarily through a radio broadcast to Europe, Africa, or Asia, we strongly discourage bringing your program to European Gospel Radio. The results will be disappointing as our target is not the United States of America (USA).
Most of our listeners in Asia and Africa do not have a bank account or credit card and cannot send you any checks in the mail. They live in remote areas without electricity, cell phones, and email or web access. Europeans are tight with their money and sceptical of appeals for donations. This is simply the way society is.
We would greatly appreciate it if you would refrain from contacting us if you intend to do Christian fundraising or make a profit.
Donate to support Cristian Media WorldWide!
If you're not a broadcaster or program producer but would still like to support us, you can donate to European Gospel Radio. This will help us continue expanding our outreach to even more African, Asia/Pacific countries and Europe.
NEXUS-International Broadcasting Association is a non-profit association of international broadcasters and media producers that owns and operates European Gospel Radio. If you would like to donate, you can do so via PayPal by following the link below. You can donate in US Dollars or Euros using your credit or debit card or your PayPal account (registration for PayPal is NOT required).
Thank you for your support!